About the project
The long-term aim of the project is to make mixed reality cities that co-exist with real cities.
We want people to be able to encounter virtual buildings, which no longer exist, in the space where they used to stand.
To start with we're looking at one building, Manchester Reform Synagogue on Jacksons Row in the city centre.
We asked if the synagogue would be part of this research for two main reasons, the first being that the whole area is subject to development speculation. If development proceeds, the synagogue will be demolished, so in that sense it was a good case study. The Principal Investigator, Dr. Richard Brook, Manchester School of Architecture, and The Modernist Society were both interested from a historical perspective – Richard is a specialist in post-war British architecture. The synagogue was the first new building in Manchester city centre after the Second World War. It replaced a much earlier building (1858) at Park Place to the north of Victoria Station that was destroyed by an enemy bomb in 1941. This added to the historical interest and strengthened the argument for the synagogue as a case study.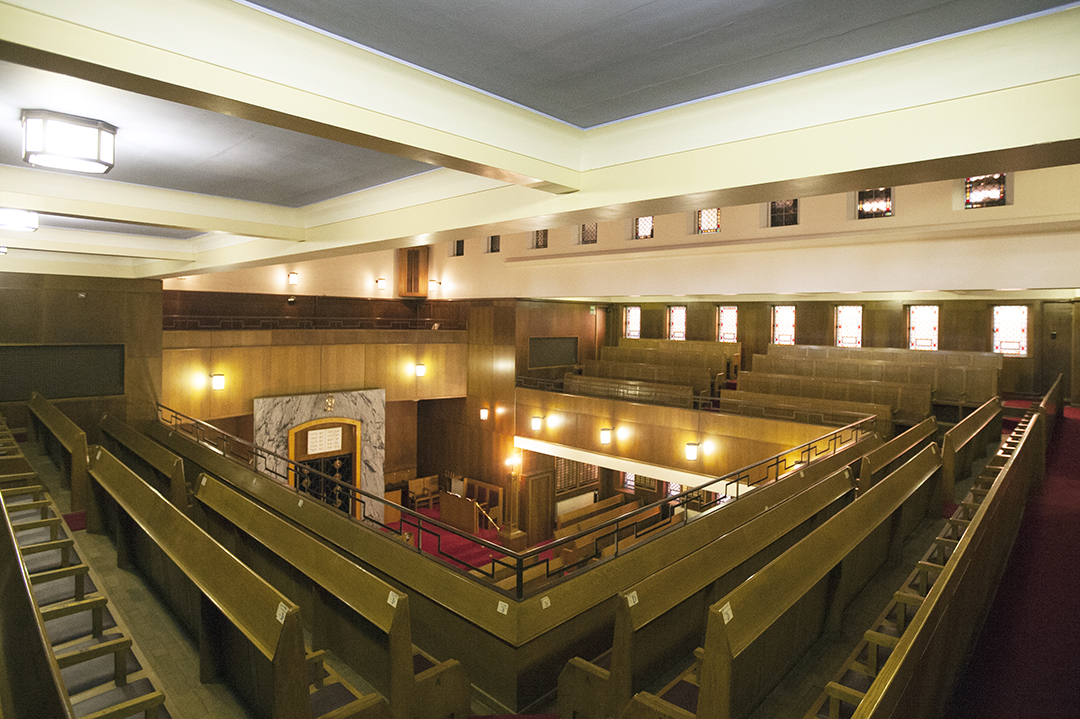 The seven month project was funded by the Arts and Humanities Research Council and the Engineering and Physical Sciences Research Council under their joint call, Immersive Experiences. We wanted to get a group of researchers and specialists together to bring their own sector expertise to the project. We wanted to explore how digital media can open new relationships between and with archive collections and the public. We wanted to look at how to use some of the more sophisticated scanning and 3D technologies in the production of 3D environments that would be navigable in the first person.
Dr. Richard Brook, Dr. Kevin Tan, a computer scientist and Dr. Ben Edwards, an archaeologist have led the project from Manchester Metropolitan University. The funding allowed us to work with Oxford Archaeology North, who have considerable experience in drone based photography and its conversion into three-dimensional models, using a technique called photogrammetry.
The funding also allowed us to develop a relationship with Fablr, a digital agency, who will help us share this project and partner in its subsequent development. It has let Richard, Ben and Kevin bring their specialisms together in the study, recording and representation of this building. As an architectural historian, most of Richard's work is archival and in the field. Ben has used photogrammetry techniques and crowd sourced data to recreate Neolithic monuments in virtual 3D. Kevin is an expert in games design and VR. The Modernist Society have delved into the social history of the building and Archives+, Manchester Central Reference Library has provided unlimited access to the materials they hold.
The digital output of the project is twofold – this website, which will continue to act as a way to share its onward development, and a VR experience, best encountered in a headset, but accessible via web platforms. Both the website and the VR are intended as repositories for digital and digitised information from a range of sources. Of course, making digital copies of maps, photos, plans, audio and film and presenting them online is not new, the site is intended as a record of this activity. What is new however, is the idea of hosting digital material within the same 3D space as the building.
Our justification to the funders was thus:
Imagine being able to encounter a building on a street where the building no longer exists, but once stood. Imagine being able to enter that building and to walk through its spaces and hear the stories hidden in its walls. A 3D virtual model could contain surviving architectural drawings of the buildings, digitised from archive sources – a viewer could walk at a scale of 1:1 through the architectural drawings; it could host still images embedded within the model; it could carry oral histories literally within its walls. This project imagines the creation of a model that can recreate a rich and layered version of a building and bring it to life through the collation of social, cultural, technical and visual archival sources. A building that becomes more than the sum of its parts and has more to impart than it ever did when it was alive.
In the virtual reality experience we have created, the participant can move between a series of three-dimensional views both virtually inside and outside of the synagogue. We have presented the main spaces of the building using a mixture of data from photogrammetric, laser scan and 3D photography. Once inside the building we have located audio clips with memories of the building from its congregation that can be played and listened to. We positioned an archive photo, of a Bat Mitzvah from 1957, in the plane in which it was taken and you can see the rest of the room that was outside of the photographer's frame. There's a clip from a wedding video, also overlaid with the building and viewed from the position of the camera operator. You can stand above the architects plan and see the building around it.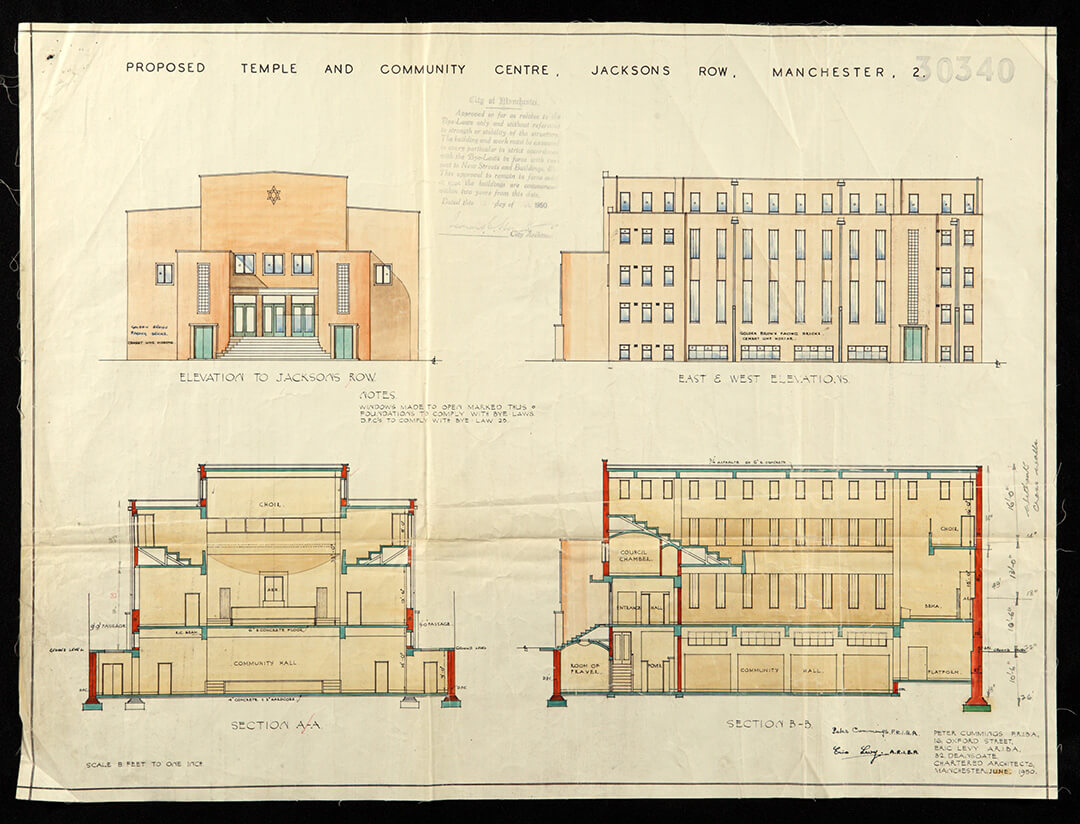 Investigating the technology has enabled us to recognise three specific areas for future investigation:
There is a technical gap in the processing of large meshes made by laser scan and photogrammetry and their downsampling to VR environments.
The geo-location of data is not yet accurate enough or accessible enough to enable a first person mixed reality experience of a building in real space.
Untethered devices use methods other than GPS or fixed sensors to locate themselves in space. Their use outdoors and in urban spaces is still unreliable.